All of my sewn hats are one of a kind, by design. However, if you see one that is the wrong size, the wrong color, not quite the right style, contact me about having something made for you to your specifications. I might be able to create something similar just for you.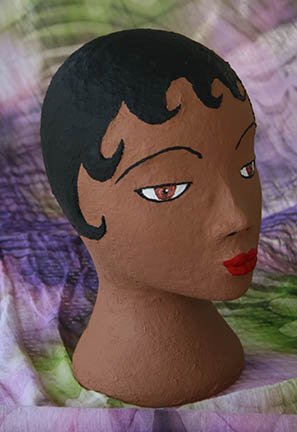 Size Medium (22.5″)

Afghani tassel on top, eye beads at crown
Mediterranean blues and citron yellow make this crisp pillbox. A white tasseled fringe drapes the forehead (dangling 1-1/4 inch past the bottom edge of the hat), lightweight plastic eye beads in perfectly coordinating colors are sewn into the crown seam, and a genuine Afghani tassel punctuates the top. The interior is lined in sky blue satin. Designed with belly dancers in mind, but you don't have to be a dancer to wear and love this. Size: Medium. $74.99
---
One size fits most

Beaded fringe, sequined appliqué
Teardrop-shaped black poly-silk pillbox has 1-3/8 inch black beaded fringe, silver trim, and a black and silver beaded sequin appliqué on the crown. The trims are all hand-sewn. Comes with an elastic to be worn under the hair to help hold it in place (if your hair is short, you may need bobby pins to anchor this). Lined in black. Since it's a perch hat, one size fits most, but the lines of this hat will look best on a smaller head with a sleek hairstyle. $79.99
---
Size Medium (22.5″)

Genuine coins, beaded fringe
Muted colors and a Persian-looking print complete this pillbox, trimmed with brush fringe accented with glass beads, and genuine coins. Because of the coins and the glass beads, this is a heavier hat than the others. Lined in maroon satin. Size: Medium. $89.99
---
Size Medium (22″)
Tall (a bit over 5 inches) pillbox, using an antique textile from Afghanistan – this is one of a kind! The base color is burnt orange, and has accents of red, green, blue, and black surrounding the mirrors, along with bright yellow and red embroidery and silver braid. Black tassels (original to this textile) punctuate the sides, and it is lined with (new) yellow satin. Size: Medium. $149.99
---
Size Small to Small/Medium

Completely reversible!
Inspired by the kerchief worn by Rosie the Riveter and her coveralls, this completely reversible demi-cloche is made using the iconic red and white cotton polka dots on one side, and woven recycled denim on the other. You can even turn the front of the brim back a bit, exposing the other side! Because of the way it sits on the back of the head, there's no true band size, but this is a small cap, best fitting Small or Small/Medium (it's not going to fit if your band size is over 22 inches). $79.99
---
Size Medium (22″)

Individually singed leaves, beaded acorn bobble
Ent toque made with woodgrain look vinyl and layers of polyester leaves in rust, ochre, tan and olive, each individually singed on the edges, with a singed and beaded stem acorn bobble. The leaves are only sewn down at the center point, they flutter beautifully in the breeze! The lining is olive. Some Nature lover, woodsprite, or other truly unique person is just right for this hat. Is it you? Size: Medium. $89.99
---
Size Medium (22.5″)

Trapunto appliqué
This flamingo-inspired colorblock beret made with reclaimed materials linen and linen/cotton blend in fuchsia and turquoise features trapunto appliqué on one side of the beret. A jaunty cream ribbon sails up one side of the band. The frayed edge of the band is original to the item the material was reclaimed from. The hot pink lining is also reclaimed. Size: Medium. $99.99
---
One size fits most
Elegant cream felted angora and lambswool pillbox with a metallic gold knit crown, and cream and gold ribbon accent. This is a true pillbox, not meant to be pulled down onto your head. It comes with an elastic to be worn under the hair, or the elastic can be held in place with bobby pins if your hair is short. Size: One size fits most. $59.99
---
Size Medium (22″)

Cutouts revealing coordinating pastels
Reclaimed wool herringbone tweed in black and white speckled with random slubs of color form the main body of this smart beret. The crown has stitch-reinforced cutouts revealing a second layer of coordinating Oxford cloth quarters in lavender, mint, cornflower, and butter. The reclaimed lining is black. Size: Medium. $149.99
---
Size Small (21.5″)
Reclaimed sequined crown t-shirt toque in a bold floral print, lined in flamingo pink broadcloth. Can be worn with the sides turned up or worn straight. Crushable, packable, fun summertime hat when you're not worried about the sun in your eyes. Size: Small. $24.99
---
Size Small (21″)
Boldly-colored reclaimed charcoal cable knit felted wool beret with a contrasting cream fleece band, red satin ribbon trim, and a beaded flower accent made for this hat. Unlined. Size: Small. $39.99
---
Size Large (23″)

Wool petals over Oxford cloth quarters
Grey wool herringbone with subtle pastel stripes running through it make up the under-crown of this beret, and the petals on the crown. Coordinating Oxford cloth quarters on the crown in pale pink, yellow, green, and blue complete the crown. An Art Deco-inspired silvertone dome button punctuates the center of the "flower." This is the perfect springtime beret when it's still chilly outside. The reclaimed lining is grey. Size: Large. $149.99
---
Size Small (21″)
This one of a kind beret is made from strips of reclaimed denim, woven with red acrylic yarn on the crown. The under-crown is a single piece of denim, stitched with yarn as an accent. The scalloped band is from the front placket of the reclaimed skirt, but the heart-shaped buttons are new (and non-functioning). It is lined in red and white polka dot cotton. Size: Small. $79.99
---
Size Small (21.75″)
Pale pink fleece beret with a darker pink (with white polka dots) novelty net overlay. Lined with flamingo pink broadcloth. No reason your warm winter hat can't be fun, is there? Size: Small. $39.99
---
There are more hats on the next page!