If you're interested in purchasing from Shattered Photos,
visit WAWhipple.com – thanks!

Cards • Pendants • Matted Prints • Very Limited Editions • Art Quilts & Dolls
---
Greeting Cards
80lb. embossed and richly textured acid-free ivory cardstock, 5 x 7", matching deckled flap envelope is 5.25 x 7.25". Professionally printed 4x6" photos permanently mounted to the front of the card. Card interior is blank. (See an example.) Cards will arrive individually bagged. They are available in themed packs of five cards (by color or subject) at WAWhipple.com.
---
Photo Pendants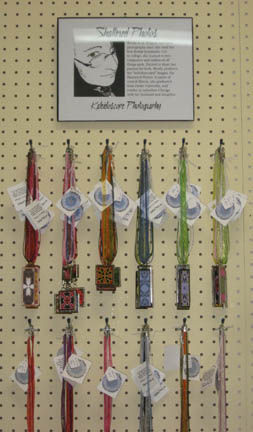 1x3" rectangular or 1.5" square photo pendants are sandwiched between 2 pieces of glass, sealed and framed. Necklace that coordinates with the photo is included. Every pendant is signed on the reverse and includes what the original image is. Note: these should not get wet; they are sealed but not watertight, and the photo would be damaged.
Two-piece pendants, with a 1" square miniature of the original photo, and the kaleidoscoped image hanging from it. (See an example.)
Two-piece "word pendants" are a kaleidoscoped images hanging from an "inchie"* original and one of a kind artwork, collaged with text recycled from used books. Due to the nature of these pendants, each are unique and cannot be duplicated. (See an example.)
* Inchies are 1-inch square pieces of art, and can be made from anything, so long as they are an inch square.
.
.
---
Matted Prints
5x7" (matted to 8x10") and 8x10" (matted to 11x14") professionally printed photos are mounted to an acid-free 4-ply black mat (unless noted otherwise) and backing board. Every print is identified on the back with what the original photo is, and is bagged to protect it from smudges and fingerprints. Visit WAWhipple.com. to purchase. (See an example.)