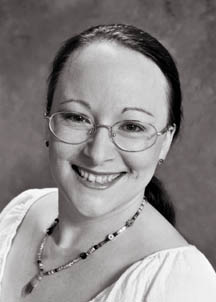 Because she was not able to find information anywhere, she decided to set aside a page on her website to help others with the same idea. That webpage receives hundreds of visitors, along with many emails from people asking questions, or just to say "thanks." It is her passion for her subject that most people are drawn to, and if she doesn't know the answer to a visitor's question, she'll research until she finds an answer.
Wendy researches her family's history when she can. She has a daughter with autism, tries to keep up with current autism research, and is sometimes called upon to advocate for her child. In 2003, she had an essay published in the book, The Autism Experience, edited by Karen Simmons and Murray Hoke.
She graduated from Drake University in 1992 with a B.S. in psychology, with minors in philosophy and sociology. She married right out of college and the couple moved to Chicago, where she helped support her husband through law school. She worked for the now-defunct Crown Books for 8 years before they closed for good. After they folded, Wendy chose to stay at home with her daughter.
She has been an avid reader and closet writer for most of her life. She loves to cook and has done so since she was a child. She has a large collection of vintage and contemporary cookbooks, clips recipes from magazines and packages, and has vintage boxed recipe collections from 16 states and Canada.
Besides the hundreds of cookbooks and thousands of recipes she collects, the author also has numerous other collections ranging from foreign coins to action figures. Wendy also pursues her artistic side through photography and mixed media art. (See her work at ShatteredPhotos.com.)
Wendy and her family are living happily ever after in suburban Illinois. While her daughter is at school, and husband is at work, she has their dog Penelope to keep her company. And, of course, the Internet.
The graphics on this page are based on the style recipe box the author's paternal grandmother kept. It was an old Ohio Art metal box in a popular design sometimes described as Pennsylvania Dutch. The ribbon at the bottom of each page is for autism awareness.
The author photo was taken by the talented Ali Visona. She does portraits and weddings, as well as photo restoration.